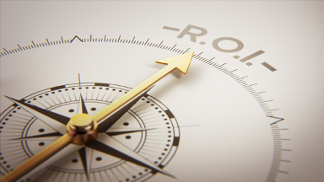 Marketing has long been allowed to get off relatively lightly when it comes to accountability to the business. Whereas other departments have a plethora of hard-hitting KPIs to contend with, it can sometimes seem as though marketers can get away with little more than waving their hands and talking excitedly about how much 'engagement' they have generated. That is all very well, but what about the bottom line? Engagement is great, but if it ultimately does not lead to more sales – and at an acceptable cost – then it isn't delivering value for money.
At Golden Orb, we are firm believers in the value of applying rigorous measurement to marketing, and this is why we have developed software to do just this – particularly for relatively short-term events or campaigns. If marketing events are just planned and evaluated in spreadsheets, as is often the case, then organisations fail to build the institutional knowledge that leads to continuous improvement. Our software ensures that before the event, campaigns are planned in detail, with clear objectives and financial targets – which can form the basis of the final go/no-go decision. Whilst the campaign is running, actual sales figures are fed into the system, allowing the business to monitor performance and, if necessary, update their forecast as to how the campaign will perform. At the end of the event, it is evaluated automatically and the results stored in a structured database to allow the business to analyse past events and learn from what worked and what did not.
Real-time monitoring means that if a marketing test fails to deliver, it can be abandoned before too much money has been wasted. Conversely, successful marketing strategies can quickly be rolled out more widely. The automation of the process ensures that every campaign is evaluated in a consistent manner, without the need for time-consuming manual effort. Using a database, not a spreadsheet, means that knowledge is captured for the future, including both volume effects and full financials. It also makes sharing information easier, and means that regular snapshots of the forecast can be taken, allowing analysis of week-on-week and month-on-month changes.
The Golden Orb combined marketing planning and analysis software (COMPAS) allows all organisations to have access to the same sorts of cutting-edge tools used by the most sophisticated businesses. It helps them to save time in planning and reporting, to build more accurate sales forecasts and, most importantly, to conduct rigorous analysis on past promotions to ensure that the marketing budget is deployed where it generates the greatest return on investment (ROI).
Originally developed for major clients like Unilever and Direct Wines, our software is now available on a Software as a Service (SaaS) basis. It is typically tailored to the specific needs of the business, since the way that an organisation plans and reports is fundamental to what makes it distinctive. Despite this, it can typically be deployed in a matter of a few months and requires no commitment beyond the first year's contract.