Compas – Cloud-based software for planning and evaluating marketing activities
Golden Orb specialises in providing tools for planning and evaluating marketing spend. Whether for multichannel retailers planning direct marketing campaigns or manufacturers wishing to plan/evaluate trade promotions, our Compas software provides the kind of specialist support and rigorous analysis to marketing departments that other functions have long taken for granted.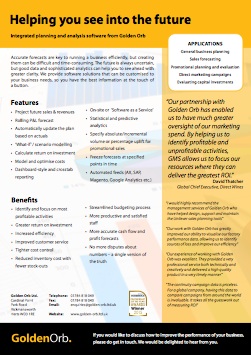 The planning and evaluation of short-term marketing events, such as direct marketing campaigns or consumer/trade promotions, is an area in which Excel has historically reigned supreme. Even large, sophisticated businesses still plan millions of pounds worth of expenditure on basic spreadsheets, with all the attendant constraints and risks to data integrity that this approach entails. Specialised database tools can improve the planning and evaluation processes significantly, saving time, improving accuracy and allowing marketing spend to be targeted more efficiently. The size of the marketing budget in many companies means that even an improvement of a few percent in the way it is allocated can add significantly to the bottom line.
Our cloud-based Compas software provides a complete suite of tools to allow companies to take control of their marketing spend. It provides the same level of detailed planning functionality as has for a long time been available to Finance or Operations, and delivers interactive, dashboard-style reporting of campaign performance, together with sophisticated analytics to allow businesses to optimise marketing spend and develop more accurate forecasts. Previously only available on a bespoke basis to large companies like Unilever and Direct Wines, our cloud-based Software as a Service (SaaS) brings it within the reach of much smaller companies that wish to apply the same level of analytical rigour. Any business whose annual marketing spend is measured in the millions would probably benefit from spending a tiny percentage of that amount to manage it properly.
Key features of the Compas toolkit are:
It is based on a networked database, providing a single version of the plan and a single view onto the results. Changes are propagated rapidly, and all users know that they are working off the same set of numbers. No more issues with people working off the wrong version of the spreadsheet, or calculating their results in different ways.
The same system is used for planning and reporting. Actual sales are fed in from the sales order processing systems, and are automatically aligned with the appropriate marketing activity. The integration of the two allows a virtuous cycle of campaign planning learning from history, and results being viewed in the context of the original plan and subsequent updates.
Typically, whilst a campaign is running, the actual sales have the possibility of automatically updating the forecast if they come in higher or lower than was expected – although this is usually subject to the overall control of the marketing department.
Relevant data may be loaded from several sources, allowing for comprehensive dashboards to be presented, which bring together all necessary information about campaign performance.
The planning tools support the taking of snapshots, to allow comparisons between the current forecast and how it stood at different points in time (e.g. last week, last month).
Saving the budget becomes a simple task of taking a snapshot at a point in time when the marketing programme for the following year has been entered and agreed.
Creating updated forecasts is likewise just a question of updating the plan and saving another snapshot.
Individual campaigns are aggregated on the fly to give a consolidated view of the business plan.
Promotional sales can be planned in terms of absolute volume, incremental sales or percentage uplift to baseline sales.
Forecasting algorithms can be incorporated to improve visibility of future demand.
Key to our approach is the philosophy that the technology has to serve the marketing function and not dictate the process:
Tools are tailored to the specific business needs of the client – although the initial consultancy phase provides a good opportunity to think about and rationalise business practices.
Campaigns can be planned in different levels of detail – e.g. at a high level for the budget, with the details being filled in later.
Minimal information is required to start planning a campaign (e.g start date, total volume, sales profile), and the system does the hard work of calculating the volumes and financials by time.
Information can be entered directly or uploaded from Excel, depending on what suits the business better.
The underlying toolkit uses standard technologies (ASP.NET and Oracle) and has been implemented both for the planning of trade promotions by FMCG manufacturers and for planning Direct Marketing campaigns. No two businesses are the same and the Golden Orb tools use a tried and tested framework which is customised to each individual client's requirements. Business planning goes to the heart of what makes a company unique. Whilst an off-the-shelf or spreadsheet solution can work at a basic level, using a specialised tool to take account of the specific way a company operates can take much of the headache out of the planning and budgeting task.
Project structure
The software is available either for local installation or on a Software as a Service (SaaS) basis. In either case, the implementation process is generally the same. A typical project will consist of a short analysis phase lasting around two weeks, during which data sources will be identified and the precise objectives agreed, followed by a customisation phase of six to eight weeks. We generally find that it is best not to be too ambitious at first, and to turn on additional features once people get familiar with the basic functionality. Implementing the Compas software should generally be seen as a process of business transformation, and it is best if the project is led and managed by the marketing department, drawing on resources from IT as needed. That way, Marketing gets to 'own' the system and everyone buys into the project – an essential ingredient if the business is to realise the maximum return on its investment.
Ultimately, implementing the Golden Orb planning approach is not really about the technology. It is about becoming more data-driven: allowing hard data and rigorous analysis to support expert judgement in the decision-making process as far as possible. You can read more about our thoughts on becoming a data-driven organisation here and download our e-book on the subject here. To arrange a demonstration and discuss how our tools might benefit your organisation, contact us now.
"Our work with Golden Orb has transformed the way we are able to read and understand marketing results. We are able to evaluate and forecast our marketing performance faster and more accurately, in both the immediate, and longer term (lifetime value). We have as a result significantly optimised our marketing spend."

David Lockwood, Head of Marketing Analytics, Laithwaites Wine