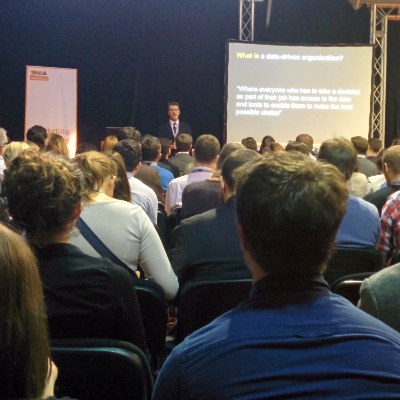 We were proud to be sponsors of the 2015 Marketing University at the highly regarded Technology for Marketing and Advertising conference in Olympia, London (TFM&A 2015). As part of the 'data' stream of their education programme, we presented our thoughts on 'Enabling the data-driven organisation'. This talk was aimed primarily at decision-makers, rather than technicians and focused on the organisational and cultural changes that need to be made to enable businesses to take full advantage of the wide range of data available both inside and outside the organisation.
In our experience of working with both large and small businesses, the management of information is too often viewed as being little more than the technical matter of buying the right IT systems and capturing the correct data. Whilst these are undoubtedly important, we believe that more significant are the attitudes and organisational structures within the business. Becoming a data-driven organisation, we argued, was more about business transformation than technical innovation.
It is reasonably straightforward to set up a data warehouse and buy a reporting tool off the shelf. However, that in itself, will not make an organisation data-driven. It goes without saying that in most organisations, people have access to a certain amount of data to help them to do their job. However, our definition goes further than that: we suggested that a data-driven organisation is one where everyone who has to take a decision as part of their job has access to the tools and data they need to make the best possible choice. This is quite a limited definition, but is still one of which most organisations fall short. In fact, at the very least it should probably have the words 'and uses them' added on the end, as one of the absolute prerequisites that we identified of being data-driven is that people in the organisation buy into the concept of using evidence to support decisions, rather than just relying on experience and received wisdom. Whilst these are undoubtedly valuable, they tend to inhibit the ability to spot new trends and respond rapidly.
In our talk, we identified four prerequisites of a data-driven organisation and highlighted a number of barriers that we have experienced in various companies. Finally, we proposed seven key principles that an organisation should bear in mind if they wish to become more data-driven:
Top management involvement – to drive the cultural change
Principle of openness – data is better shared than in silos
High level ownership – someone senior needs to have responsibility for the accuracy of data and availability of systems
A business, not an IT resource – data is a valuable resource that belongs to the business as a whole
Excel is a spreadsheet not a database – great for analysing numbers; less good for storing and sharing them
It's really not about computers – simply buying a new computer system will not make a business data-driven
Keep at it! – there will be problems and doubters, but they can be overcome
You can download the slides of the talk here .