We are delighted to be back again this year at the Technology for Marketing/eCommerce Expo shows in Olympia on 27th and 28th September. Our stand, E1192, is situated on the upper floor, between the eCommerce Expo and TFM parts of the show (very handy for the café).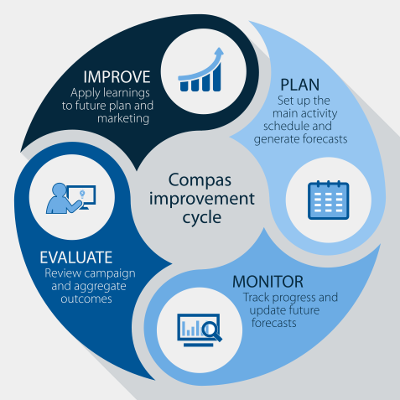 We will be demonstrating Compas, our new cloud-based Marketing Management System, which allows businesses to plan, monitor and analyse all their marketing activities in one place. We have been arguing for years that marketing needs to be taken more seriously as an activity: for too long, marketers have had to make do with a jumble of mismatched systems and spreadsheets to manage their activities. Frequently, this leads to hours wasted each week pulling together the necessary data to create sales reports. On the analysis front, many businesses fail to hold their marketing to the same level of accountability in terms of ROI as other investments, despite the fact that many marketing activities, particularly short-term promotional events, are perfectly amenable to rigorous analysis. In many cases, the reason that companies are not more disciplined in the way they plan and evaluate their marketing is simply that it is too hard, given the hotch-potch of tools that they have available. With Compas, everything is provided in one, easy to use, environment, meaning that analysis of every campaign is carried out overnight as new data becomes available, and forecasts are updated automatically and shared with all departments.
We are keen to give as many organisations a chance to try out Compas as possible, so we will be offering a massive 50% discount off the first year's fees to anyone who registers an interest at the show. Come and talk to us on stand E1192 and see how Compas can help you.